Host and Fisherwoman:
Karen Monaghan Arnone
TV & Internet Host
FISHING PARTY! is hosted by Karen Monaghan, a vibrant, attractive woman with a great sense of humor and over thirty years fishing experience including hosting a National Fishing Show: The Natural Angler for 3 years as well as guest appearances on "Two Guys in a Boat", The "Ultimate Fishing" show, and many appearances as a speaker at various sporting, fishing events and trade shows.
Fishingparty.net Summary
Karen intends to fish around the world and report back here, to you, to share her experiences. Although fishing is Karen's main sport while on vacation, it can often be the people you are with and the things you see while out fishing that make your trip even more memorable.
Check out A Fish Story for Karen's latest and greatest adventures!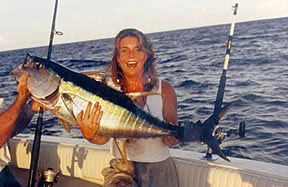 For sponsorship opportunities or further information please contact: Lisa Livingston, Producer at splash@splashinc.com or karen@fishingparty.net
tel: 416-252-6659 fax: 416-252-7520
www.splashinc.com
Is this in your future?