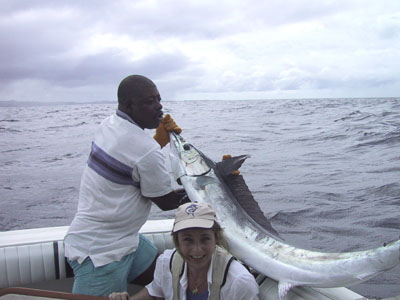 My friend, Laura, who I was visiting in Grenada, was hesitant about going out on the boat and very grounded in her fears of the weather...but she came along. We leave around 8:30 am with Captain Gary, a transplanted Brit with his own charter boat and a really nice guy. Along to assist us was Leslie the first mate (that's him in the picture).
Within a half hour we hit a fish. A 65+lb White Marlin (also in the picture with Leslie and me). They range up to 100 or so pounds for a big boy and are hard to find.
We tag it, take a quick photo and release it.
Just a short half hour later the sea swells are growing, we can see rain over the island. We are 14 miles out and the second fish strikes. (Will I have to pay per fish?!) It's a 140+lb Blue Marlin. It's a half hour fight to land the marlin. We get it up - tag it - but, alas, no photo. It was released quickly. The sea starts getting rough. We celebrate. High fives all around! The captain is proud. Laura is shocked. My arm is throbbing. Smiles a mile wide.
It's close to lunch time. but we put the lines out again. It's almost one o'clock .. no time for even a bio break or to eat.
Another hit! We see the fish take the bait - it's HUGE! Line peels... I jump into the chair. Leslie gives me the rod and the fight is on. We bring all the other rods in. I fight. It takes line like crazy. I reel like mad. It takes more line. I reel. They give me a vest harness and attach the reel to it so my upper body can pull the fish. An hour passes; it's not moving. I gain a few feet. It gains a few. I almost have it in. It screams back down. We're going into the third hour. It has become a test of wills. I will not quit.
It starts to rain. We are moving further out and it's getting late. Captain Gary is starting to worry. I let Leslie help me. He works with me for an hour - it's still not moving. In... and out...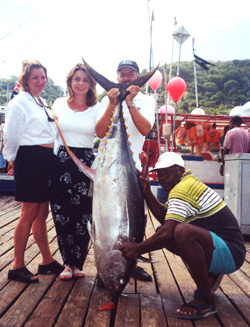 We finally see it. It's a Yellow Fin Tuna. Sushi!
You can hear them yell...tunaaa. And their brains are going ka-ching, ka-ching... $$$. They are serious now and they double their efforts to help me. The boat is moved. The fish is up ... the fish is down. Captain Gary starts pitching in now.
With all three of us working this fish we get it to the surface. They get the gaffs. And fight it. And struggle. They quickly open a trap door on the back of the boat to pull in the fish and a gaff breaks. They rope the fish and finally get it on board. Flapping and scrapping. Laura and I duck into the cabin as it was reeeaally dangerous. The swells were reaching 12 feet, the sun was setting. Just in time we got her in and went home. It had dragged us six miles out deeper. It weighed in the next morning at approx 165lbs.
FISH ONNNNNNNN!